---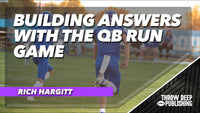 This is Part 3 of a 5-Part Series titled: "High-Performing Offensive Principles"
Want to score more points?

Rich Hargitt is a coach with over two decades of experience at the high school level and has built high-scoring offenses at every stop around the country. In this video series, he explains the principles that have led to his success (while using everything from the Wing-T to the Air Raid to the RPO) – and shows how you can use them to create mismatches for your best players and dominate on game day.

You'll learn how to maximize your quarterback's processing ability, identify defensive weaknesses, and exploit them for maximum gain. You'll also discover winning principles for any offense – no matter what system you run. If you're looking to take your offense to the next level, this is the video for you.

Start streaming these clinic talks TODAY!
Part 3 - Building Answers with the QB Run Game
Attention: Many offenses are at a huge disadvantage. They're outnumbered between the tackles, and they think that just because they don't have super-fast guy playing quarterback, they can't run him.

Wrong.

Rich Hargitt has coached traditional pocket passers, speedy mobile quarterbacks, and everything in between. Learn how to design your quarterback run game to take advantage of the quarterback's natural abilities, and create opportunities for big plays.

Every defensive coordinator knows that when he has to worry about a running quarterback, it changes the entire game plan. So why wait? Get started today and see how much easier your life can be with an improved quarterback run game.

Start streaming your copy of this clinic talk INSTANTLY!