---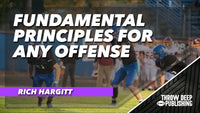 This is Part 2 of a 5-Part Series titled: "High-Performing Offensive Principles"
Want to score more points?

Rich Hargitt is a coach with over two decades of experience at the high school level and has built high-scoring offenses at every stop around the country. In this video series, he explains the principles that have led to his success (while using everything from the Wing-T to the Air Raid to the RPO) – and shows how you can use them to create mismatches for your best players and dominate on game day.

You'll learn how to maximize your quarterback's processing ability, identify defensive weaknesses, and exploit them for maximum gain. You'll also discover winning principles for any offense – no matter what system you run. If you're looking to take your offense to the next level, this is the video for you.

Start streaming these clinic talks TODAY!
Part 2 - 

Fundamental Principles for Any Offense

Don't let your offense become predictable and easy to defend

Rich Hargitt shows you 6 fundamental principles that create success for ANY offense, no matter the style of play. You'll also learn how to cross-train versatile players who can do multiple things, making it harder for the defense to key in on any one thing.

Keeping your opponent up late at night trying to figure out how to get lined up properly is the goal of every offensive coach, and now Coach Hargitt gives you a simple framework to apply to your offensive scheme.

Start streaming this series today and build a versatile and dangerous offense.