---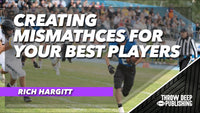 This is Part 4 of a 5-Part Series titled: "High-Performing Offensive Principles"
Want to score more points?

Rich Hargitt is a coach with over two decades of experience at the high school level and has built high-scoring offenses at every stop around the country. In this video series, he explains the principles that have led to his success (while using everything from the Wing-T to the Air Raid to the RPO) – and shows how you can use them to create mismatches for your best players and dominate on game day.

You'll learn how to maximize your quarterback's processing ability, identify defensive weaknesses, and exploit them for maximum gain. You'll also discover winning principles for any offense – no matter what system you run. If you're looking to take your offense to the next level, this is the video for you.

Start streaming these clinic talks TODAY!
Part 4 - Creating Mismatches for your Best Players
As a coach, it's your job to put the ball in the hands of your best players.

If you're not doing that, you're not doing your job. It's as simple as that.

In this video, Rich Hargitt explains some of his favorite ways to create mismatches against the defense. Give yourself the tools you need to create big plays and make your offense so much tougher to stop.

Start streaming INSTANTLY and see how easy it can be to create plays for your best players.