---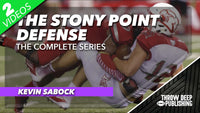 Sale
Everyone knows how important it is to get off the field on 3rd down, but there's a big difference between the teams that actually get off the field and those who simply want to.
Coach Kevin Sabock, the DC at Stony Point High School, has made aggressive defense a centerpiece of his scheme to enable his players to make plays that end the offense's drive.
Coach Sabock dives into the curveballs and calculated aggression that allows his guys to successfully get off the field fast in: The Stony Point Defense - The Complete Series
Here's what's included:
Part 1: 3rd Down Defense - The games, pressures, and blitzes that coach Sabock installs to create multiple looks for the offense to adjust to. 
Part 2: Block ID and LB Fits -  How coach Sabock teaches his second-level defenders to understand how the offense is trying to block them and how they should react to maintain fundamentally sound defensive principles. 
Coach Sabock goes into great detail regarding all of these need-to-know topics in The Stony Point Defense - The Complete Series
Keep reading to learn more about this series...
Part 1 - 3rd Down Defense
Topics covered include:
The Philosophy of 3rd Down Defense
Playing Nickel Defense
Their favorite packages and coverages on 3rd Down
And more!
Check out the FREE preview below:
Part 2 - Block ID and Linebacker Fits
Topics covered include:
The different types of blocks and how to fit them

Teaching base run fits from the linebacker position
Practicing run fits
And more!
Check out the FREE preview below: