---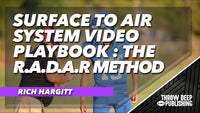 This is Part 4 of a 7-Part Series titled:
Rich Hargitt, the creator of the Surface to Air System and head coach of Emmett High School, is one of the best coaches in the state of Idaho!
Emmett High School's offense has one of the most dynamic attacks and consistently defeats programs much bigger than their own.
We cover EVERYTHING you need to know about the Surface 2 Air System in our Newest 7-part Series: The Surface to Air System - The Complete Series
Part 4 - The RADAR Method
RPOs can add another layer of complexity to your offense, but Coach Hargitt's RADAR Method simplifies it for even a first year QB:
The simple way to analyze coverages
When to throw it and when to keep it
Beating Cover 0 

And more!
Check out the FREE preview clip below: