---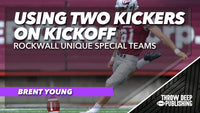 This is Part 2 of a 3-Video Series titled: "Rockwall Unique Special Teams"
Coach Brent Young of Rockwall, Texas has put together some of the most dangerous special teams units over the past several years, playing against the top teams in Texas over and over again.
Learn the schemes and fundamentals that have led to consistent success against incredibly tough competition and top tier athletes.
Get all three videos in a single bundle AND save!
Here's what you'll get:
Part 1 - Blocking Punts and Field Goals
Part 2 - The Rockwall High School Two Kicker Scheme
Part 3 - Swinging Gate & Fake Punt Plays
 Read on to find out more about each part of the series!
Part 2 - The Rockwall High School Two Kicker Scheme
How would you like to prepare for a team that could put the ball literally anywhere on the field when they kicked it off? That's the challenge for whoever lines up on kick return against Rockwall's kickoff team.
Coach Brent Young explains how they install and run a two kicker alignment on their kickoff team, and how it completely screws up the opposing return team.
Topics covered include:
The advantages of using a two kicker alignment
Creating crazy kickoff formations that destroy opponent return schemes
Why you DON'T need two great kickers to do this
And more!
Check out the FREE preview clips below: