---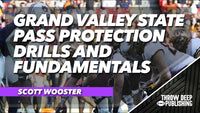 This is Part 2 of a 2-Part Series titled:
Scott Wooster is the Head Coach at Grand Valley State University and has been specializing in offensive line play since day 1 of his coaching career.
His methods are a little different than what you'll hear from other coaches, and it's one reason Grand Valley State has been a consistent winner for many years. 

Coach Wooster's advanced techniques and skill development drills allow you to maximize the production of every lineman on your roster. 
Part 2 - Grand Valley State Pass Protection Drills & Fundamentals
Topics covered include:
O-Line Drill Progressions
Teaching the Fundamentals of Pass Protection
The Long Hand Stab
Force Drills
And more!
See below for a FREE preview: