---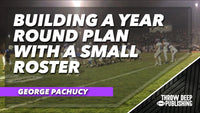 This is Part 2 of a 3-Part Series titled: "Building an Efficient Offense with a Small Roster"
George Pachucy talks about how to overcome the challenges that come with a small roster, and how to structure practice, game planning, as well as your entire offseason. Being a football coach is a hard job, and it's even harder when you don't have as many players to use in practice and in a game. But with the right strategies in place, you can still build an efficient and high scoring offense!
Coach Pachucy lays out a step-by-step guide for coaches of all levels to create a winning game plan. Practice smarter, not harder - start streaming Building an Efficient Offense with a Small Roster today!
Part 2 - The Year Round Plan
Coach Pachucy explains the teaching progression and off-season plan they use to keep their athletes engaged and learning year round. In a smaller program, your best athletes are almost always playing other sports year round, so how do you work around this and keep them up to speed with your offseason plans?
Watch the FREE preview below: