---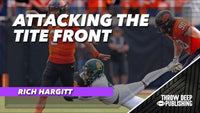 This is 2 of a 5-Series titled: "Advanced Play Calling Strategies"
Rich Hargitt is the head coach at Emmett High School in Emmett, Idaho. The Huskies have won back-to-back conference championships, IN SPITE OF playing schools MUCH bigger than them almost every single week, 
In this video series, he shares the strategies that have almost DOUBLED their points per game the past three seasons. 
PLUS - Learn from Coach Josh Lucas and Derek Pennington, who have their own unique spin on spread and up-tempo offense in the final two videos in this series.  
Attacking the Tite Front
This clinic talk features 10 foolproof ways to create havoc for the Tite Front defense, including:
Simple adjustments to run plays you already use
The "Grab" Concept - Takes 5 minutes to install and creates MAJOR conflict for defenders in the Tite front
Play Action Pass Concepts that get open vs man coverage OR zone
Unbalanced formations to add to your scheme without changing up your playbook!
Check out the free preview of this presentation below: