---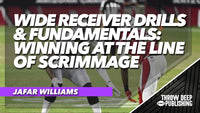 This is Video 1 of a 2-Video Series titled: "Wide Receiver Drills and Fundamentals"
Jafar Williams, Wide Receiver Coach and Pass Game Coordinator at Temple University, shares his entire teaching progression for the wide receiver position in this in-depth instructional video.
Whether you are coaching receivers for the first time, or just looking for an extra edge, this presentation will help you build better wide receivers and a more dangerous pass game for the offense.
PLUS, you'll get effective strategies and coaching points on building a better blocker at the receiver position.
This presentation is made up of two parts:
Part 1 - Winning at the Line of Scrimmage
Part 2 - Proven Drills for Catching, Blocking and Route Running
Scroll down to watch free previews from this clinic!
Part 1 - Winning at the Line of Scrimmage
Topics covered include:
Teaching the different releases off the line
Game film examples
"Move" Drills
And more!
Check out the FREE preview below: