---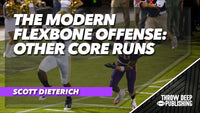 This is Video 4 of a 10-Video Series titled: "The Modern Flexbone Offense"
There's a reason why the flexbone offense refuses to die.
Defensive coordinators HATE it!
No matter what anyone says, defending the flexbone is difficult, time consuming, and is responsible for a lot of defensive coaches losing a lot of hair over the past few decades.
That's why we're so excited to bring you this series.
Level the Playing Field with the Flexbone Offense

Scott Dieterich has been a play caller for over 20 years, and in that time his teams have been to EIGHT State Championship Games, winning FIVE of them.
His secret?
Developing talented players, and an unwavering devotion to the Flexbone offense.
If you're struggling to compete with bigger or more talented programs than you, this is a way to make your opponent's life MISERABLE.
In this series, you'll learn everything you need to know about how to run this offense, with over TEN HOURS of clinic talk:
The Foundation
Core Run Game
Option Mesh & Pitch
Other Core Runs
Core Pocket Passing Game
Core Perimeter Passing Game & Complements
Complementary Runs
Connector Plays
Creatives and Crossover Plays
Game Planning & Preparation
Grab your copy of this incredible resource today, or keep scrolling to watch preview clips! 
Video 4 - Other Core Runs
Topics covered include:
Midline double option

Rocket toss

Iso series

And more!
Check out the FREE preview below: