---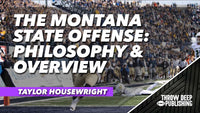 This is Part 1 of a 6-Part Series on the Montana State Offense
In 2022 Montana State put together a squad that ranked #3 in the FCS in Scoring Offense (42.9 PPG), and #4 in Total Offense (495.1 YPG) while reaching the National Semi-Final Round of the playoffs.

They did this by using lots of extremely creative RPOs, formations, and even their signature 2 QB package.
That's why we're so excited to bring you this 6-Part Series featuring Montana State Offensive Coordinator Taylor Housewright.
This series features the following videos:
Philosophy & Overview
Gap Scheme Run Game
The 2 QB Package
Zone Run Game
Play Action Pass Game
RPOs
Grab your copy of this incredible resource today, or keep scrolling to see preview clips!
Part 1. Philosophy & Overview
Coach Housewright explains what he believes, and gives you some numbers and frameworks you can use when building your own offense.
Topics covered include:
Making your offense QB Friendly - What that REALLY means
Getting your athletes in space - Different ways to do it
Mix It Up - Keep the defense on their toes
And more!
Check out the FREE preview below: