---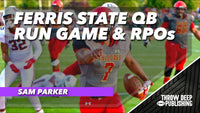 This is Part 4 of a 6-Part Series titled: "Speed In Space: The Ferris State Offense"
Coach Sam Parker, Offensive Line Coach and Run Game Coordinator at Ferris State takes you through EVERY DETAIL of the offense that won them a National Championship this season.
Part 1 - The Ferris State Inside Zone
Part 2 - Inside Zone Complements
Part 3 - The Ferris State GT Counter Series
Part 4 - QB A/B Gap Run Game & RPOs
Part 5 - Play Action Shot Plays
Part 6 - Building a Championship Culture
BONUS - Over an HOUR of All-22 Clips
Start streaming this incredible clinic INSTANTLY!
Part 4 - QB A&B Gap Run Game & RPO's
Topics Covered Include:
The unique way they teach A&B Gap Power
The full list of terminology they use with the offensive line on a daily basis
RPO Film
And more!
Check out the FREE preview clip below: