---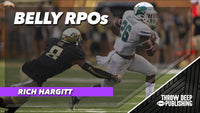 This is Part 1 of a 5-Video Series titled: "Adding Wing-T Concepts to an RPO Offense"
Coach Rich Hargitt of Emmett High School (ID), and creator of the Surface To Air System takes you through how he's created a diverse run game to go with the dangerous RPO attack they've built at Emmett.
Scroll down to watch over 25 minutes of clips from this presentation, taken from the National RPO Clinic.
Run time: 5 hours 
Here's what you'll get in each video:
Video 1 - Belly RPOs
Coach Hargitt explains his Wing-T roots and how he's molded the blocking rules from the Belly play to be dangerous out of the gun.
This video covers topics like:
Open side Belly RPOs
Tight End side Belly RPOs
12 Personnel
Game Film
And more!
Run time approximately 50 minutes
Check out this FREE preview below: