---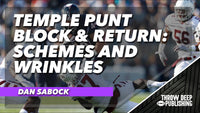 This is Part 3 of a 4-Part Series titled: "Temple Special Teams Schemes"
Coach Dan Sabock, Associate Special Teams Coordinator at Temple University, opens the playbook and explains the schemes and game plans behind all four phases of their special teams schemes.
This is a REAL explanation of a college special teams scheme, and how you can add parts of it to your own playbook.
Give yourself an advantage in special teams this season with this incredible resource.
Grab all four parts in one bundle and SAVE:
Part 1 - Temple Kickoff Return: Schemes & Wrinkles
Part 2 - Temple Kickoff: Schemes & Wrinkles
Part 3 - Temple Punt Block/Return: Schemes & Wrinkles
Part 4 - Temple Punt: Schemes & Wrinkles
See more from this series below...
Part 3 - Temple Punt Block & Return: Schemes and Wrinkles
Generating explosive plays on Punt Block/Return is one of the quickest ways to swing all the momentum in your favor and gain the edge over the opponent.
Follow along as Coach Sabock explains their mindset and teaching progression in this crucial phase of Special Teams
Topics Covered Include:
The Simple and Easy Alignment System for Lining up Correctly to Any Punt Formation
Creating Pressure on the Punt Block Team
Coaching Film
And More!
Check out this FREE clip from the video below: