---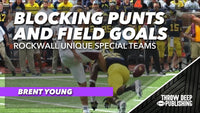 This is Part 1 of a 3-Video Series titled: "Rockwall Unique Special Teams"
Coach Brent Young of Rockwall, Texas has put together some of the most dangerous special teams units over the past several years, playing against the top teams in Texas over and over again.
Learn the schemes and fundamentals that have led to consistent success against incredibly tough competition and top tier athletes.
Get all three videos in a single bundle AND save!
Here's what you'll get:
Part 1 - Blocking Punts and Field Goals
Part 2 - The Rockwall High School Two Kicker Scheme
Part 3 - Swinging Gate & Fake Punt Plays
 Read on to find out more about each part of the series!
Part 1 - Blocking Punts and Field Goals
Coach Brent Young's special teams units have blocked 22 kicks over the past two seasons, and in this video he shares how you can get better at this crucial area of the game!
Topics covered include:
Drill progression for teaching the fundamentals of blocking kicks
Specific block schemes against punts and field goals
The technique differences between blocking punts and blocking field goals
And more!
Check out the FREE preview clip below: