---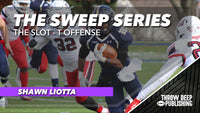 This is Part 3 of a 6-Part Series titled: "The Slot-T Offense"
The Slot-T offense has been a tightly guarded secret, but now Shawn Liotta, head coach at Burrell High School (PA) is telling you everything you want to know!

Follow along as he explains how they built a winning season without a quarterback who could run a normal spread no-huddle offense.
NOTHING is off-limits in this 6-Part Series!
Topics covered include:
The Secret of why this Offense is so tough to stop - What Slot-T Coaches are looking for on every play that's so different from most offenses - and why it makes it so tough on the defense
How to use "Attack Zones" to call plays in the Slot-T and find holes in the defense - Which means there's always room to run the football even when the defense loads the box
The BEST plays to use as a short yardage package - So you don't need to chance your entire offense to take advantage of what the Slot-T can do.
The REAL Slot-T Terminology - So you can learn how this offense is set up and install it with your team.
Slot-T Game Film and Cut Ups - Over an hour of Game Film with no commentary so you can watch it and rewind at your own pace
Here's the full lineup
The Slot-T Foundations & Philosophy
The Slot-T Power Series
The Slot-T Sweep Series
The Slot-T Counter Series
The Slot-T Pass Game
How We Practice the Slot-T
BONUS: Slot-T Game Film Cut Ups
See FREE preview clips from the presentation below:
Part 3 - The Slot-T Sweep Series
Topics covered include:

The Trap Play
The Sweep Play
The QB Sweep Play
The Jet Sweep Play
And more!
Watch this FREE preview below: