---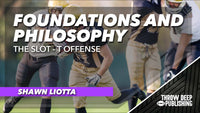 This is Part 1 of a 6-Part Series
The Slot-T offense has been a tightly guarded secret, but now Shawn Liotta, head coach at Burrell High School (PA) is telling you everything you want to know!

Follow along as he explains how they built a winning season without a quarterback who could run a normal spread no-huddle offense.
Topics covered include:
The "Attack Zones" 
Formations & Motions Names

How we name our Positions
Teaching the Huddle and Cadence
And more!
Watch this FREE preview below: