---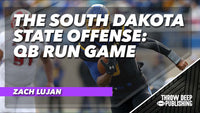 This is Video 3 of a 6-Video Series titled: "The South Dakota State Offense"
The South Dakota State Jackrabbits won their first National Championship in school history this past season, going 15-0 and DOMINATING North Dakota State 45-21 in the National Title game.
The SDSU Offense was a big part of their success, finishing as the #2 red zone offense in the FCS,
scoring 97% of the time they crossed the 20 yard line.
NOW South Dakota State Offensive Coordinator Zach Lujan has put together
6 SUPER DETAILED videos
on their offensive scheme, how they teach it, and how they drill it.
Here's what you'll get:
Philosophy & Overview

-

 

Get an in-depth look at how this staff game plans and builds a call sheet.

Gap Schemes

-

 

A thorough look at all of their top run schemes, including Counter and Power variations, plus Duo.

QB Run Game

-

 

Learn all the different ways they have to make the QB a weapon in the run game.

QB Fundamentals and Drills

-

 

Get drills you can use in your own offense to build an elite passer.

Convertible Reads and Play Action Passes

-

 

Cut ups and teach tape of the many different ways the Jackrabbits Offense has to attack the defense downfield.

Book Reads & Progression Pass Game

-

 

Learn the top pass concepts in the SDSU playbook, how they teach them, and how they adjust them to attack different defenses.
Start streaming your copy of this incredible resource today, or keep scrolling to see preview clips from all six videos:
Part 3 - QB Run Game
Topics covered include:
Bash Read
QB Pin & Pull
QB Counter
And more!
See below for a FREE preview clip: