---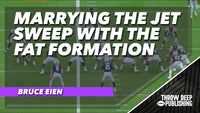 This is Part 4 of a 5-Part Series titled: "Single Wing Formations and Concepts for any Offense"
Coach Bruce Eien gives you a whole playbook full of unusual formations and plays to keep the defense on edge. Use a few plays, or steal the whole offense!
With decades of coaching experience creating havoc for defenses, Coach Eien walks you through everything you need to give opponent defensive coordinators looks they've never seen before.
This collection contains all five videos in this series:
The Stupid Series and Other Unique Formations
Merging the Spread and the Single Wing
Creative Pass Plays from Single Wing Sets
Marrying the Jet Sweep with the Fat Formation
Trick Plays to give you an Edge
Run time approximately 7 hours 7 minutes
Check out the FREE preview clips below:
Part 4 - Marrying the Jet Sweep with the Fat Formation
Topics covered include:

Blocking the Jet Sweep vs Different Looks

Building an interior run game off of the Jet Sweep Threat
The difference between the "Jet Sweep" and "Fly Sweep" and why that matters
And more!
Check out the FREE clip from this segment below: