---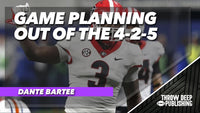 This is Part 6 of a 6-Video Series titled: "The Multiple 4-2-5 Defense"
Coach Dante Bartee, assistant coach at Oregon, takes you through six sessions of clinic talk on everything you need to know about building a 4-2-5 defensive package.
Run Time Approximately 4 Hours 26 Minutes
Part 6 - Game Planning out of the 4-2-5
Topics covered include:
"Setting the Bubble"

"Ram & Lion"
Putting the game plan into action from the 4-2-5
And more!
Check out the FREE preview clip below:
Don't wait, grab your copy of this incredible resource today!