---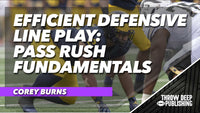 This is Part 3 of a 3-Part Series titled: "Efficient Defensive Line Play"
Fordham University Defensive Line Coach Corey Burns has put together an incredible 3-part series on the fundamentals of defensive line play, as well as building the culture within your position group.
Get all the drills and position teaching points you need for the defensive line!
This series contains three parts:

Culture & Fundamentals
Stopping the Run
Stopping the Pass
Part 3 - Stopping the Pass
Topics covered include:
Pass rush techniques from each defensive line position
Preparing to rush the opposing quarterback
Teaching "get off"

Defensive Line Stunts and Games
And more!
See the FREE preview below: