---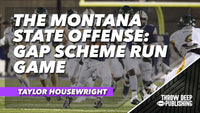 This is Part 2 of a 6-Part Series on the Montana State Offense
In 2022 Montana State put together a squad that ranked #3 in the FCS in Scoring Offense (42.9 PPG), and #4 in Total Offense (495.1 YPG) while reaching the National Semi-Final Round of the playoffs.

They did this by using lots of extremely creative RPOs, formations, and even their signature 2 QB package.
That's why we're so excited to bring you this 6-Part Series featuring Montana State Offensive Coordinator Taylor Housewright.
This series features the following videos:
Philosophy & Overview
Gap Scheme Run Game
The 2 QB Package
Zone Run Game
Play Action Pass Game
RPOs
Grab your copy of this incredible resource today, or keep scrolling to see preview clips!
Part 2 . Gap Scheme Run Game
Learn more about the Montana State gap scheme run game, and how they combine it with option reads and RPOs. (Includes LOTS of film)
Topics covered include:
Power Sucker
Mallet/Hammer Run Game Tags
Nail/Screw Run Game Tags
And more!
Check out the FREE preview below: