---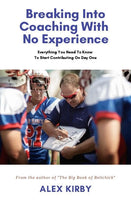 Get everything you need to join a coaching staff and provide real value to a team on day one, whether you're a former player looking to get a start in coaching, or just a fan who wants to contribute and learn.

Or, if you're a brand new coach and you're not sure where to start, this book gives you a clear path on how to get better and more knowledgeable as a coach every single day.

The book's chapters include:
Getting Your Foot In The Door - Where to find opportunities, how to pitch yourself, and knowing what to expect.
Film Analysis - Everything you need to know about breaking down film efficiently and intelligently in all three phases of the game, no matter what your level of football knowledge. Learn to analyze and discuss the game like a coach.
The Technical Side of the Job - Master the tools that almost all teams use, so you're ready to go before you ever get started.
How to Film Football Games and Practices - A great filmer is worth their weight in gold. This section gives you all the tools you need so you'll always be able to find a spot on a team.
Adding Value During Practices and Games - Don't be that guy who's just happy to be there. Learn how to be an asset and prove to the head coach that you're worth keeping around.
Continuing Growth as a Coach - Once you've got your foot in the door, where do you go next? Get practical steps on how to grow your knowledge of the game and add more responsibility as a coach.
You won't find a book like this anywhere else, so grab your copy NOW!
Great Base of Information - Not Just For Trying to Get a Coaching JOB!
Super valuable info for everyday coaches trying to expand their knowledge.