---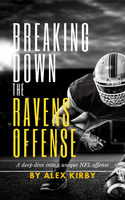 Here are just some of the things you'll find in this new book:
Dictating Matchups in the Run Game - How offensive coordinator Greg Roman picks out defenders to focus on for the option run game.
Using RPOs with minimal reads - Keeping things simple for Lamar Jackson so he play fast in the pass game.
Using Unique Formations - Learn how Baltimore uses special formations in the run and pass game, and how certain dropback plays help create potential running lanes for Lamar Jackson.
Maximizing Player Strengths - The Ravens have specific roles for each player in their offense.
An Easier Way to Run the Option - How the Ravens predetermine most option plays (and how they guess correctly so often).
Don't wait, grab your copy today!
FAQ 1: How does the Baltimore Ravens' offense utilize their running backs?
A: The Baltimore Ravens have a dynamic running game, and running backs JK Dobbins and Gus Edwards play integral roles within their offensive scheme. Dobbins, a talented young running back, brings speed, agility, and versatility to the backfield, while Edwards provides power and physicality. The Ravens' offense emphasizes a run-heavy approach, utilizing various schemes and formations to create opportunities for their running backs. Breaking Down the Ravens Offense explores the strategies behind the team's success in utilizing Dobbins, Edwards, and their unique running back duo.
FAQ 2: What Key Factors Have Contributed to the Baltimore Ravens' Offensive Success?
A: The Baltimore Ravens have left a significant mark in NFL history, including winning Super Bowls and fielding competitive teams each year. Breaking Down the Ravens Offense dives into the key factors that have contributed to their success on the offensive side of the ball with unique play diagrams from the Greg Roman offense. It analyzes their innovative offensive schemes, exceptional players like Ronnie Stanley and Lamar Jackson, and their ability to adapt and evolve. The book also examines the coaching points, strategies, and the impact of key individuals which has been covered in the past by reporters like Sheil Kapadia. This book provides valuable insights into the Ravens' offensive playbook that allowed them to become a top team. 
FAQ 3: How did the Baltimore Ravens' scheme allow them to overcome injuries on the offensive line?
A: The Baltimore Ravens faced challenges during their seasons, including significant injuries to key players like Ronnie Stanley. Injuries can have a profound impact on any NFL team, especially when they affect critical positions like the offensive line. Breaking Down the Ravens Offense covers the roles and responsibilities of players on the offensive line which allowed the Ravens to leverage their depth to maintain a competitive offense. The book also explores the roles of other blockers, such as Tight Ends Nick Boyle and Mark Andrews which contributed to the dominance of their offensive tactics.