---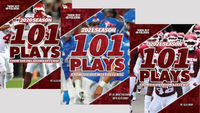 101 Plays from the Ole Miss Offense - 2021 Edition
Last year Ole Miss broke the school record for wins in a season.
Want to learn how they did it? 
Now you can with 101 Plays from the Ole Miss Offense 2021 Season. 
These are the exact plays Jeff Lebby and the Rebels ran to capture the team's first 10-win regular season…in 120 years! 
Your team can crush the competition and score more W's next season with detailed breakdowns of everything from: 
- Run Game Concepts: Learn how Ole Miss ran the Power Read to convert in the Red Zone and help QB Matt Corral rush for 600 yards 
- Dropback Pass Plays: Simplify the choices for your QB with full field progressions that convert on 3rd down, no matter what the defense is showing 
- Play Action: Create big downfield plays with Jeff Lebby's Dig-Go-Dig play action design 
- RPO's: Misalign defenses using backfield motion and produce explosive plays in the run game 
- Screens: Use the Empty Double Stack Formation to confuse defenses and give your QB his choice of screens 
- PSO's: Stop hits on your QB in the run game with pass-screen options 
- Gadget Plays: Increase the success of your trick plays using designs that fit into your base offensive scheme 
These plays helped Ole Miss average 492.5 yards per game, go 10-3 for the season and WIN the Egg Bowl. 
And they're just a fraction of what's covered in 101 Plays from the Ole Miss Offense 2021 Season.
Thanks to Head Coach Lane Kiffin and Offensive Coordinator Jeff Lebby, the Ole Miss Football offense in 2021 was unbelievably dangerous and efficient. With 555.5 yards per game, the Ole Miss Offensive Scheme ranked third nationally and was a huge part of why the Rebels won 10 games for the first time ever.

Along with elite passing efficiency, Jeff Lebby and Lane Kiffin put together an offense that racked up over 6,400 yards of Total Offense, a scoring offense of 33.7 points per game, and over 3,500 passing yards for the season.

Kiffin's offense is one he brought to Alabama during his time as the offensive coordinator under Nick Saban, and then left for Florida Atlantic. During that time he merged his scheme with principles from the Art Briles offense, building one of the best spread offenses in the country, and helping him to land the job at Ole Miss.

Jeff Lebby has been the offensive coordinator and quarterbacks coach under Lane Kiffin the past two seasons, and in the 2022 season he'll be reuniting with quarterback Dillon Gabriel at Oklahoma. Gabriel was a player who Lebby helped recruit at UCF in 2019 when he was the offensive coordinator under Josh Heupel, and this fall the two will be leading the Sooners offense with a lot of the same principles from the Ole Miss Offense Playbook.

Thanks to electric players like Jerrion Ealy and Dontario Drummond (who was just signed to the Dallas Cowboys following the 2022 draft), the Ole Miss Football Offensive Scheme was nearly impossible to stop in 2021.

Grab your copy of the book and find out why!
101 Plays from the Oklahoma Offense - 2021 Edition
In 2021 Oklahoma scored over 38 points per game and averaged almost 7 yards per play.

Wanna know how they did it?
Now you can with 101 Plays from the Oklahoma Offense: 2021 Season.
These are the exact plays the Sooners used to put together one of the best offenses in college football.
Supercharge your offense with a detailed analysis of sections from the Lincoln Riley playbook like:
QB Run Game:

 

Attach the threat of the QB draw to open up all kinds of opportunities for the pass game.
Attacking the Boundary:

 

Create extra opportunities for explosive plays in the run and pass game with new ways to get the ball to your best players in space.
Dropback Pass Plays:

 

NEW schemes to attack coverages that Oklahoma focused on in 2021
Screen Passes:

 

Use motion, pump fakes, and creative formations to get the ball to your running back underneath and in space.
Up-Tempo Calls:

 

Copy these creative formations that the defense HAS to figure out in just a few seconds - OR they'll get shredded
Play Action Pass:

 

Sucker in the defense with confusing backfield action, and then throw it over the top of their heads.
Trick Plays:

 

See more of Lincoln Riley's creative gadget plays that he can call at ANY TIME.
These plays helped Oklahoma pile up nearly 6,000 yards of offense in 2021.
And they're just a fraction of what's covered in 101 Plays from the Oklahoma Offense: 2021 Season.
PLUS - Every single play comes with a clickable link AND a scannable QR code to go to a YouTube clip of the play.
What you waiting for? Get it now!
101 Plays from the Oklahoma Offense - 2020 Edition
Take a deep dive into one of the most consistently successful offenses in the past decade of college football, the Oklahoma offense.
Learn how Lincoln Riley designed an offense that allowed a freshman QB to shine in the biggest moments in 2020, all the way to another Big 12 Championship.
Topics covered include:
The Sooners run game
The unique ways Lincoln Riley uses Formations, motions, and shifts
Pass concepts from all 12 games of the 2020 season
Oklahoma's RPO - AND the plays designed to look like RPO's (but aren't)
The many trick and gadget plays from Oklahoma in 2020
PLUS - Get a BONUS PDF with 25 EXTRA plays when you order a PDF OR Paperback - No extra charge!
Check out what coaches are saying:
Take a deep dive into the Oklahoma Offense!
The Oklahoma offense is one of the most feared and respected in all of college football. And with good reason - they boast a dangerous and explosive arsenal of weapons that can score from anywhere on the field.
Now, you can get an inside look at how they operate with 101 Plays from the Oklahoma Offense. This book gives you a behind-the-scenes look at some of their most famous plays, and shows you how to implement them in your own offense.
Featuring highlights from all of the team's key players in their trademark Big 12 Spread Offense, it's a fascinating glimpse into how one of the most explosive offenses in college football operates. Whether you're a football fan or just a casual observer, this unique collection offers an insightful and engaging look at how Oklahoma's Air Raid Offense came to dominate the season.
You'll learn about their unique approach to offensive line play, and how they use their versatility to create mismatches all over the field. This is a must-have for any coach or player looking to replicate Lincoln Riley's offensive creativity. This playbook includes all of the most effective and interesting plays from the 2020 season, giving you many of the same answers against similar defenses you may see.
"101 Plays from the Oklahoma Offense during the 2020 season" is an essential guide for any football fan. This amazing book contains a wealth of information on Riley's passing game, including diagrams and explanations of all 101 plays. Whether you're a student of the game or just love to watch college football, this book is sure to teach you something new.
So don't miss out - order your copy today!