---
Posted by Throw Deep Publishing Staff on
The Drive concept has been lighting up defenses for decades in football, and most teams from high school to the NFL run some version of it. Let's talk about why. When you hear the word "drive" in terms of the pass game, it is a tag/term that tells two receivers their responsibilities within the design of a given play. The first route in this combination is a 10-12 yard basic route (essentially an in-cut if you aren't familiar with the term). Moving in behind this, is a 3-4 yard shallow crossing route from another wide receiver trailing underneath of LB...
---
Posted by Throw Deep Publishing Staff on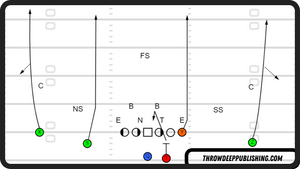 While the 4-Vertical concept instantly sparks a deep shot play in the minds of many, this concept is one that allows QB's the chance to push the ball downfield, while getting the ball out fairly quickly. As you can guess, all 4 receivers are responsible for releasing vertical downfield, either looking to win their matchup, or become available in the open zones of the defense, but as we'll see, the concept is a little more versatile.  Overview & Purpose of the Concept 4 Verticals looks to stretch the defense both vertically and horizontally in order to push the football deep...
---
Posted by Throw Deep Publishing Staff on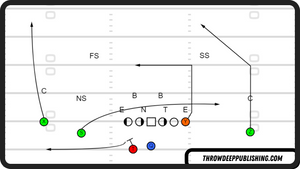 The core of the shallow cross concept is a basic route, and shallow drag route working from opposite directions of one another. And as any solid passing game concept does, it looks to put defenders in conflict, and possess answers against both man and zone coverage. Similar to the drive concept in nature, shallow cross looks to put LB level players in a bind, as they must decide whether to drop to cover the basic route, or play low honoring the drag route. Depending on how it is coached, it can offer both a simple triangle read for QBs, or...